Workshops
All courses are held in our workshop below the shop, with six sewing machines, tables, cutting boards and ironing boards. Kitchen and bathroom facilities also.
Fabric and patterns are not included in workshop price unless specified. Workshops won't be refunded unless the entire class is cancelled.

' Bea's Garden ' Quilt Workshop with Anne Varley
November 20 @ 10:00 am

-

November 21 @ 4:00 pm

£160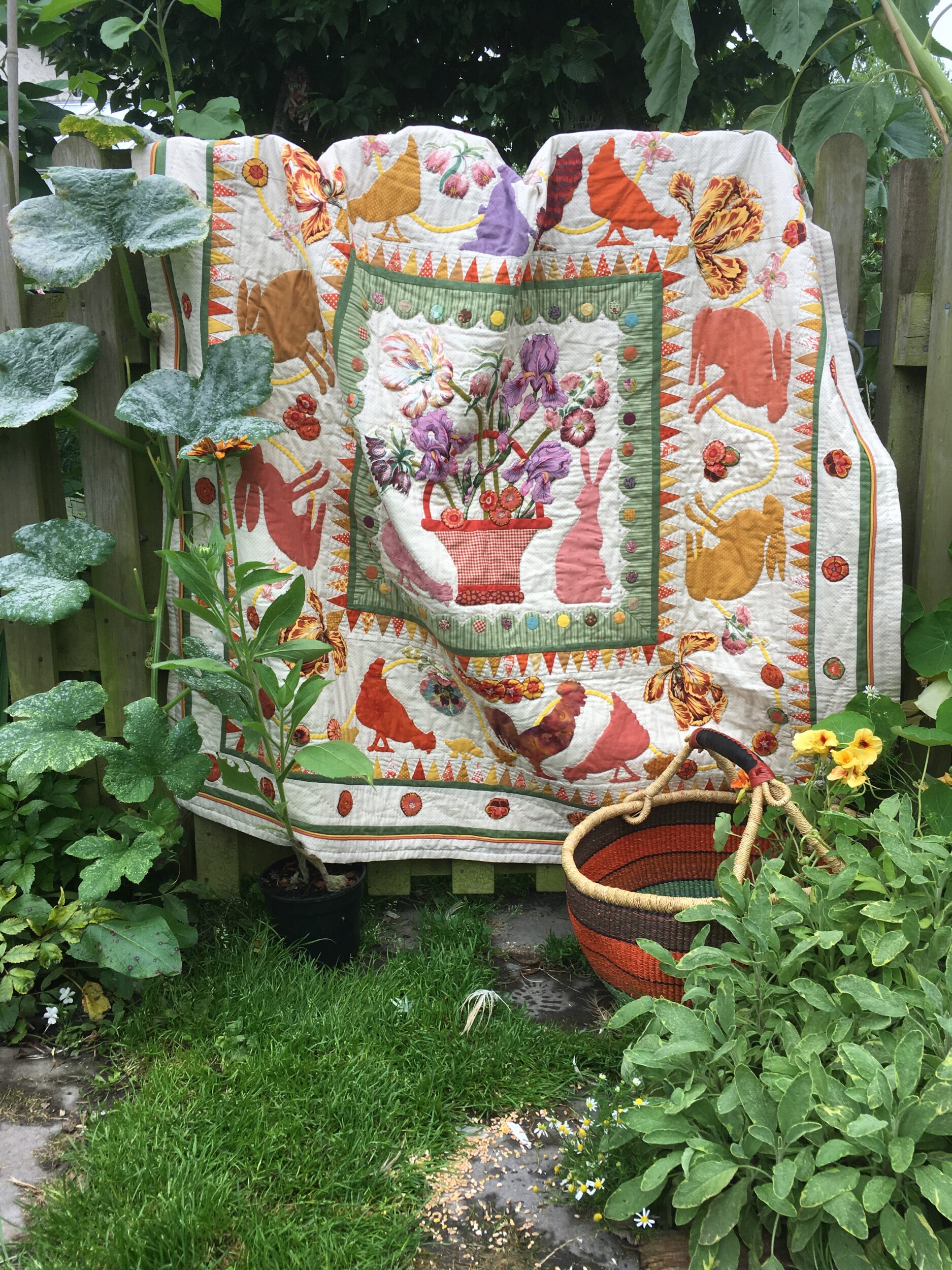 This is a two day course running on the Saturday 20th and Sunday 21st of November from 10am to 4pm both days. Anne Varley is travelling to us which is especially exciting! This year Anne won a prize at Nantes 2021 for her skilled and inventive appliqué technique, and if you would like to admire her work before the workshop, we have the 'Bea's Garden' quilt displayed in our shop.
*The quilt pattern is included, as well as tea and lunch. *
Workshop participants are also welcome to a 10% discount in the shop on the days of the course. x
Workshop Information:
"This is a contemporary medallion quilt that I made for my daughter and that has been loved, played with and slept under. It's a gentle hand-made and stitched quilt that uses lots of different fabrics and techniques and can be readily personalised to your colour and taste. Over the two days we will consider fabric selection, the central vase composition, layering of fabrics and explore the techniques of Broderie perse, needle turn appliqué, bias stems and will make perfect circle for you to apply."-Anne
Tools Needed:
Sharp to the point fabric scissors
Paper scissors
Pencil and A4 paper
Needles- I use milliners straws no11
Thread- 60/50wt cotton
Pins
Please bring with you fabrics, including pieces for broderie. Workshop participants are also entitled to a 10% discount on the days of the workshop so you can always invite some new fabric prints into your quilt through the course!
About Anne Varley:
"I have had the fortune to study at Edinburgh College of Art and the Rhode Island School of design. I have also been privileged to have been published by Quiltmania, Simply Vintage and Today's Quilter and won the prestigious Pour L'amour du Fit competition in 2018.
I am a designer to the core and love to work with needle and thread, feeling the wonderful textures of fabric in my hand. I draw inspiration from books, the landscape, my garden, science, museum collections, my family and friends. I like to work with a whole range of fabrics, sometimes limiting my palette to just a few colours but rarely to reproduction or modern aesthetics."
To see some more of Anne's work please have a little look on her beautiful instagram page: @anne.varley