Workshops
All courses are held in our workshop below the shop, with six sewing machines, tables, cutting boards and ironing boards. Kitchen and bathroom facilities also.
Fabric and patterns are not included in workshop price unless specified. Workshops won't be refunded unless the entire class is cancelled.

Margaret Mew Merrow Croft Workshop
12th August 2019 @ 10:00 am

-

4:00 pm

£150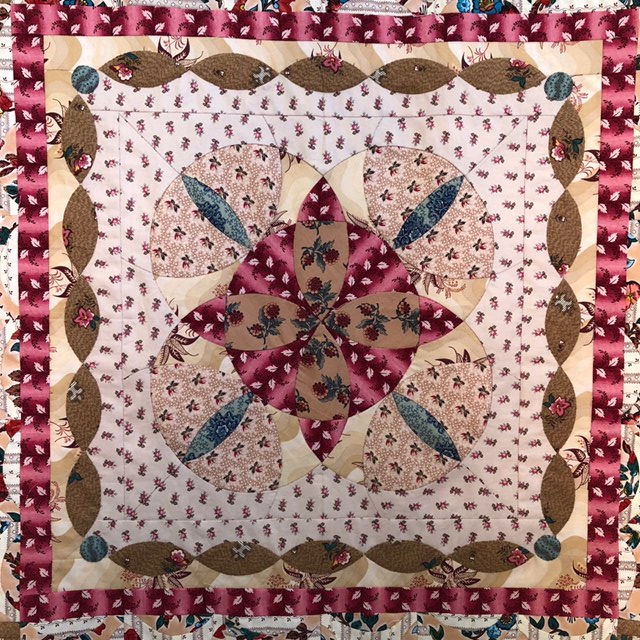 Workshop Description
Merrow Croft continues Margaret's passion for Medallion Quilts. Here she combines her joy of hand piecing and hand applique once again, in a charming new quilt in a fresh and pretty palette… but always with those splashes of her favourite teals and browns.
The pattern for this brand new quilt will be available as a Quiltmania Booklet publication in mid-2019.
Enjoy a class with Margaret and learn the techniques for accurate hand piecing the curved centre block… or make a start on some simple Back-Basting applique blocks; you will be amazed at how Margaret quickly appliques what is traditionally a pieced block.
Margaret's eye for mixing colour and print is a key element to her classes so be sure to bring along a favourite fabric, especially if you have had trouble getting it to work in a quilt
Requirement List
Centre Block
* Fat 1/4 each of two fabrics ~ Colours Brown and Teal
NOTE, You could double that quantity for use later in the quilt, or substitute
* 30cm Raspberry red
Again, double or substitute for later in the quilt
* 15cm of Light Tan Print
NOTE, approx 2.5 metres of
this fabric will be required for the rest of the quilt
* 30cm of a pretty floral for background
* 25cm of a glorious print
NOTE, approx 2.5 – 3 metres of
this fabric will be required for the rest of the quilt
* 25cm of a pretty brown print
Template Plastic, Plastic scissors, Pencils for marking fabric, Fabric scissors, General sewing supplies Sandpaper board or design mat to hold fabric steady while marking around templates
Requirement List
Back Basting Applique Pincushion blocks for Merrow Croft
* 75 cm each of two fabrics required.
This is where Merrow Croft began for me and set
the palette for my quilt. Make the main fabric one
which you adore, and you will love your quilt.
Fabric scissors, Pencils for marking fabric, Quilting thread for back basting, needle for back basting (large)
Applique thread and preferred applique needles, General sewing supplies
Lunch and cake included, catered by the lovely Juliet's Cafe.
Have a look at Margaret Mew's instagram: @margaretmew