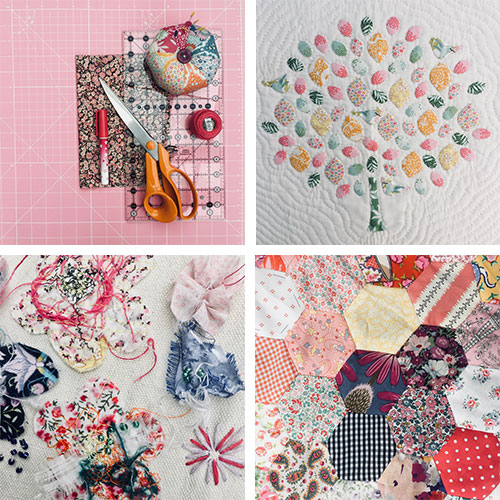 All courses are held in our workshop below the shop, with six sewing machines, tables, cutting boards and ironing boards.  Kitchen and bathroom facilities also.
 A variety of courses for a range of abilities:
hand quilting
machine quilting
free motion quilting
applique
paper piecing
dressmaking/corsetry
get to know your machine
After easter light lunch, cake, tea and coffee will be included, provided by the lovely aJuliets Cafe. Please inform us of any special dietary requirements.
Fabric and patterns are not included in workshop price unless specified.
Workshops won't be refunded unless the entire class is cancelled.

Rose Star One Patch Hexagon Quilt
November 30 @ 10:00 am

-

4:00 pm

£70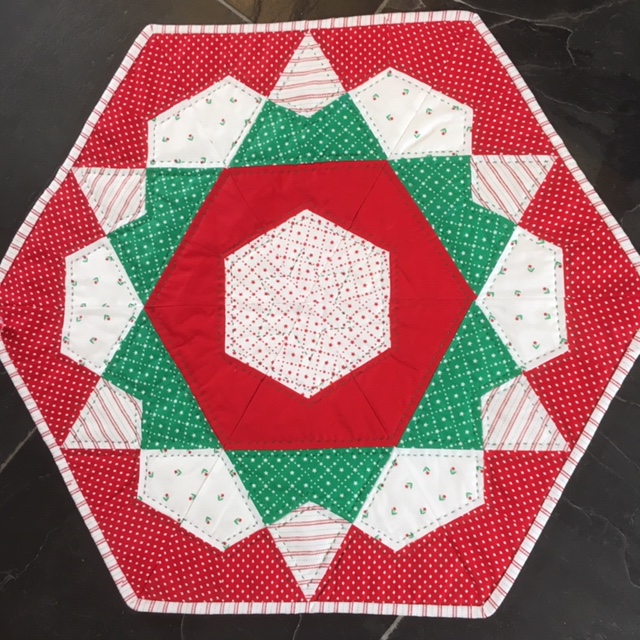 This class will be making the classic hexagon block that is featured as a quilt in the book' Hexagon Happenings' (Carolyn Forster, published by Landauer). One block can be made into a mini quilt, a table mat or more can be sewn after the class to make a quilt.
On the day in class we will cut our fabrics, and stitch the block, which contains set in or 'Y' seams.
I will talk about quilting with Big Stitch and Perle cotton threads showing ideas from the book 'Utility Quilting' (Carolyn Forster, published by Landauer)
Block size: short side 13 ½", widest point 28in
Needs List:
Perspex Template £5 payable on the day. I will have these with me on the day for purchase.
For Rotary cutting:
Rotary cutter, ruler 6 1/2in x 24in
Rotary cutting mat
For hand cutting:
Fine rotary pencil to show up on your fabrics
Sheet of medium to fine sandpaper (stops fabric slipping)
Fabric scissors
Machine sewing:
Sewing machine with 1/4in piecing foot. Jenny at Pincushion has machines to use, however if you would like to use your own machine you are welcome to bring it in.
General sewing kit to include pins and pen/pencil to mark fabrics
Hand sewing:
Needles, thread, thimbles, pencil to mark fabrics
General sewing kit
Fabric
Each block needs 6 fabrics, five prints and one background.
In general if you allow one fat quarter for each of the six, you will have
enough fabric for one block.
For centre of the block:
This is made from a hexagon pieced from the template. To gain maximum effect cut from stripped fabric or fussy cut. You would need 0.25cm or 6 pattern repeats. If you want don't want to use a stripe here, then a fussy cut design works well here.
Each block needs four fabrics for the other parts. A fat quarter or 0.25cm will be sufficient of each one. Or use scraps.
Background fabric, one Fat Quarter per block, to yield 24 pieces
To give you an idea of what you will be able to cut from your fabrics:
Yield from fat quarter: 24 pieces
Yield from one fat 1/8: 12 pieces
Yield from strip (44in x 3 5/8in): 14 pieces
*For Fussy Cutting you will need to allow more fabric.
www.Carolynforster.co.uk
Lunch, tea and cake is included.
Kits of 6 fat quarters will be available to buy at the shop in Christmas prints.